Celebrating the UDM Law School Centennial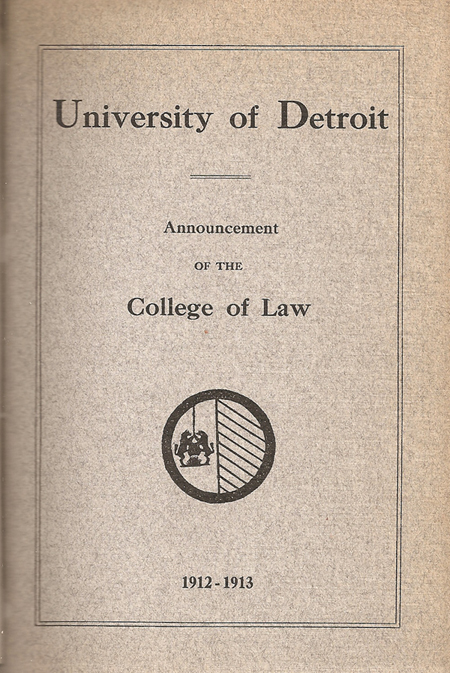 The University of Detroit Law School opened in September, 1912. According to the first Law School catalog: "The completed course includes three years, each of which occupies eight and one-half months…. The first semester of the year 1912-1913 will begin October 1st."
Here is a listing of the tuition and fees for the Law School in 1912. Board and lodging could be had for $17 and up per month depending on the student's tastes. Just to put things into perspective, the average yearly income in 1912 was about $1,000 and a gallon of gas was only 7 cents a gallon.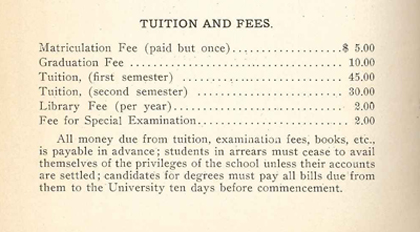 Although the first class of law school graduated in 1914, the Class of 1915 was considered the first to have had their entire training through the University of Detroit Law School from its very beginning in 1912.
In the June 1915 issue of  The Tamarack (forerunner of the Varsity News), published the portraits of the Law Class of 1915.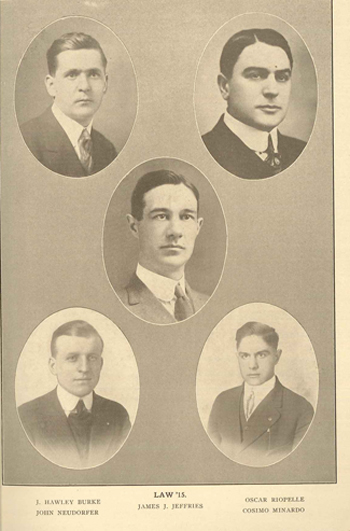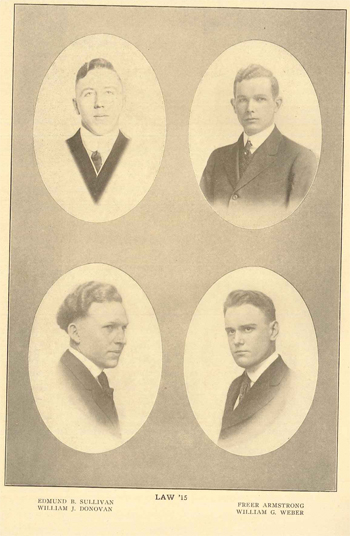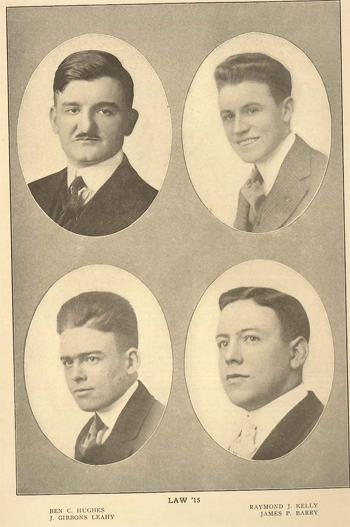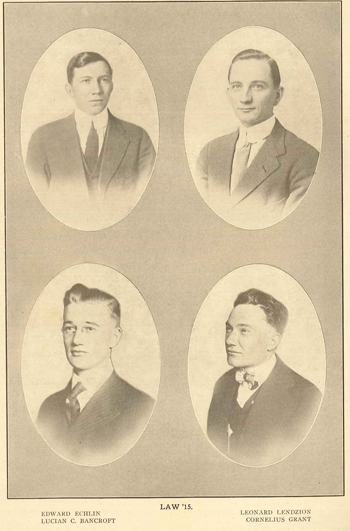 Over the past 100 years, graduates from the Law School have served as judges on the U.S. Courts of Appeals, U.S. District Courts, Michigan Supreme Court, Michigan Court of Appeals, various district, municipal and probate courts in Michigan, held major elective offices in state and local governments, including three former mayors of the City of Detroit and two former Michigan Attorney Generals.
The University of Detroit Mercy Law School has a rich and varied history from establishing the Urban Law Program with clinics in the City of Detroit, to taking the show on the road in mobile law offices with Project SALUTE – traveling over 100,000 miles to 25 states providing free legal advice to low income veterans. All in keeping with the UDM mission statement: The University of Detroit Mercy, a Catholic university in the Jesuit and Mercy traditions, exists to provide excellent, student-centered, undergraduate and graduate education in an urban context. A UDM education seeks to integrate the intellectual, spiritual, ethical, and social development of our students.