Marian Day to Honor the Mother of God, 1931-1965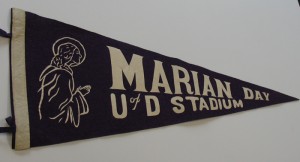 The first Marian Day celebration at the University of Detroit Stadium was held May 17, 1931, sponsored by the Detroit Catholic Students Conference. Nearly 16,000 people heard the Reverend John P. McNichols, S.J., President of the University of Detroit, deliver the principal address. One of the more notable speakers  to address the Sodalists in 1935 was the Reverend Charles E. Coughlin, pastor of the Shrine of the Little Flower, and noted radio speaker on the subject of "Religion as the Basis of Patriotism." The pamphlet from the 1935 celebration indicates that after the program at the UD stadium there was a procession to Marygrove College for special Benediction in honor of the Blessed Virgin Mary.  Marygrove College is not that far from UD (less than a mile), but that is still a pretty good hike for many people.
In the early years the ceremonies began with a 45-minute parade down Livernois Ave. into the stadium but was discontinued after three years of rainy Sundays.
Pope Pius XII declared a Marion Year for 1954, the first in church history. Services were held to commemorate the 100th anniversary of the adoption of the Doctrine of the Immaculate Conception. Special services were also held at Mercy College to pay homage to the Blessed Mother. Mercy College, Mercy High School, St. Scholastica's grade school and Bertha Fisher home for the aged all joined in the tribute. The day ended with benediction at the grotto on Mercy College's campus.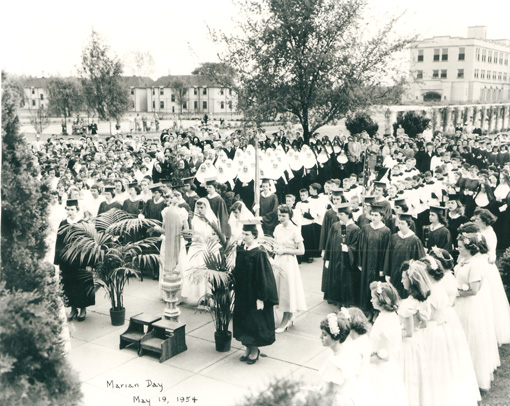 His Eminence Edward Cardinal Mooney, Archbishop of Detroit, announced May 23, 1954 as a day for the city-wide observance of Marion Year at the University of Detroit. An estimated 100,00 Catholics packed the University of Detroit football stadium in a Marian Year celebration. The UD stadium had a seating capacity of  20,000, so most of the participates were seated on the field. A special outdoor altar was erected, and some fences and bushes had to be removed to accommodated the crowd.
Over the years, attendance at Marian Day services declined. By 1965 only about 7,000 Catholics attended the ceremony. Due to an increasingly crowded calendar of events both at the parish and diocesan level in the month of May, it was decided by Fr. Raymond S. Skoney, spiritual director of the Detroit Archdioscesan Federation of Sodality Unions. to postpone Marian Day until the fall in 1966. A search through the Varsity News did not list any Marian Day service in 1966.
Since the 1954 Marian Year celebration, the only other time I can think that the Detroit area had a 100,000 Catholics gather would be for the visit by Pope John Paul II at the Pontiac Silverdome in September 1987. Does anyone know of another occasion?