University of Detroit Football Team of 1946: Return of the Veterans
In the process of collecting  UD memorabilia from wherever-including ebay, I got this lighter commemorating the 30th anniversary of the 1946 football team. It was given "Compliments of Chuck & Ann Baer June 5, 1976″. Charles Baer was the Head Football Coach in 1946.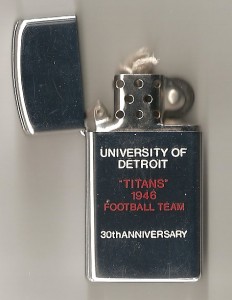 A little background about this team would show why this team seemed to be extra special. According to the 1947 Tower yearbook, this was the first real post-war team. It was the first Titan team that contained a representative number of war veterans.

Both of team co-captains were regulars of the 1942 team before heading off to serve in the armed forces.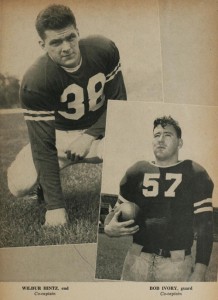 Bob Ivory entered the Army Air Force in July 1943 where he served as physical training instructor. He was discharged in February 1946 with the rank of sergeant and played guard on the football team.  Bill Hintz had been chosen as captain of the 1943 football team, but before September came around, he enlisted in the Navy and UD had also suspended varsity football because of the decreased wartime enrollment. While in the Navy, Hintz spent time in the Pacific with an amphibious outfit. He was discharged in June with the rank of lieutenant and returned to the lineup as receiver.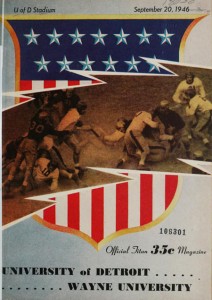 The season ended with what I would consider a pretty respectable record of six wins and four losses.You can check out all the football programs and news from Varsity News, the student newspaper on the library portal Special Collections.
GO TITANS!