Speech and Drama Department at Mercy College of Detroit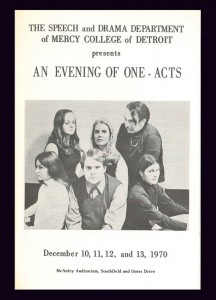 One of the courses offered at Mercy College through the Speech and Drama Department was a class on "Direction". Each student was responsible for producing, directing and selecting a one-act play, casting the roles, setting up rehearsals, positioning and moving the characters on the stage. Albert Zolton and James Foote, associate professors of speech and drama, and David Pellman, instructor of speech and drama would act as supervisors as well as consultants to the student play directors.
One-acts were not the only project from the Speech and Drama Department.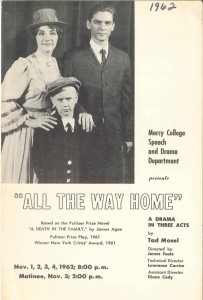 Full Broadway musicals were also produced with members of the students and faculty playing key roles in a stage production. Some of the musicals produced included: Kiss Me Kate, My Fair Lady, Zorba the Greek, Anything Goes, Sound of Music, A Funny Thing Happened of the Way to the Forum and Showboat. For some of these plays a 20-piece orchestra comprising members of the Scandinavian Symphony Orchestra provided the music. Cast members were not just Mercy College students and faculty, they often included husbands, wives, brothers and sisters of Mercy College staff. Request for volunteer help in all areas such as costumes, scenic and stage crew, and ushers went out to all departments. What better way to see a free show!