The President's Cabinet-University of Detroit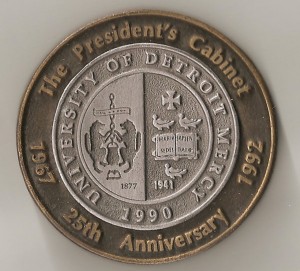 The President's Cabinet was established " To encourage the active interest and participation of alumni and friends in the maintenance of excellence of higher education at the University" Each year the President's Cabinet held an awards dinner in which a medallion was awarded, "To honor those individuals who, through creative leadership and extraordinary accomplishments, are contributing to the maintenance of the highest ideal of the American way of life." Over the years individuals from education, business, government, religion, sports, science and the arts have been honored, as one speaker put it, " for recognition (of) those individuals whose lives are striking examples of what can be accomplished with knowledge, commitment and God-given talents."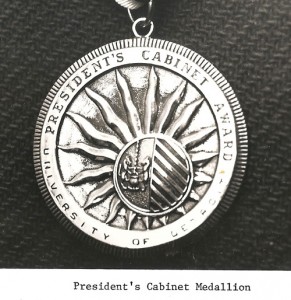 Among the first to be recognized by the President's Cabinet: Max Fisher (businessman and philanthropist). Bob Considine (journalist), Edward Fisher (VP General Motors), Ernest Breech (Executive Ford Motor Company  and Trans World Airlines), George H. Love (Executive Consolidated Coal Company and Chrysler Corporation), and Whitney M. Young, Jr. (Executive Director, National Urban League).
Some of the other notable people that have received the award: Walter Reuther (UAW President), Ogden Nash (Poet), Sixten Ehrling (Conductor, Detroit Symphony Orchestra), R. Buckminster Fuller (Architect),Colonel James A. McDivitt (Astronaut), Gordie Howe (Professional Hockey Player), Joyce D. Brothers, Ph.D. (Psychologist, Television Personality, Author), George Romney (CEO American Motors and Governor of Michigan), Rev. Monsignor Clement H. Kern (Pastor, Most Holy Trinity Parish),  Gene Kelly (Actor), John J. Sirica (Chief Judge, U.S. District Court), Rosa Parks (Civil Rights),  Benny Goodman (Musician and Bandleader), William "Smokey" Robinson (Singer, Songwriter and Record Producer), Elmore "Dutch" Leonard (Author), Dave Bing (Professional Basketball Player and Business Executive) and Neal Shine (Journalist).
For a more complete listing of all honorees see the section on "University Honors" on the library's Special Collections Page.
There was also an impressive list of guest speakers at the awards dinner which included: Ray Bolger (Actor), Art Linkletter (Radio and TV Personality), Dan Rather (Journalist and TV News Reporter), Pat O'Brien (Actor), Dennis Day (Singer, Radio, TV and Film Personality) and Hal Linden (Actor)
Mercy College of Detroit also had a similar award which will be posted on this blog at a later date.