Detroit Tigers: Memories of 1968 World Champions!
As the Detroit Tigers prepare for the American League Division playoffs, I thought I would take a moment to reminisce about my favorite team-the 1968 Detroit Tigers. Things were much simpler back then, they didn't have to go through this whole division playoffs system like they do now. At the end of the regular season it was just whoever was in first place in the American League vs. National League. I guess there was not as much emphasis on getting a national television audience because not all the games were played at night. I remember hurrying home from school (I was in grade school back then) to watch the game on TV, like these UD students in Shiple watching the final out of the game.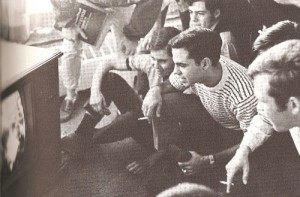 However, since this is a blog about the University of Detroit Mercy, here are some of the activities and news happening on campus during the World Series of 1968: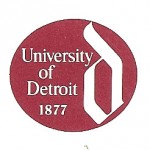 For many years, it seems that every branch of the university had their own logo. In October of 1968, they unveiled a new logo to give the university a single identification tag. The 'new' logo would be an oval containing "University of Detroit" with a lower case "d".
The UD Theatre group moved into its new permanent (well at that time it was) home in a converted lecture hall in the Ford Life Sciences Building. For years the theatre group had to perform in libraries, converted classrooms and gymnasiums.
The season would open in September with an evening of one-acts "Zoo Story" by Edward Albee and "The Ridiculous Young Ladies" by Moliere.
A UD chapter of of SDS (Student for a Democratic Society) was formed. For those too young to know, the SDS was a national group of mostly college students who were considered by some to be a very radical organization that would stage protests against the establishment (primarily US government institutions).
Duke Ellington presented his "Concert of Sacred Music" as one of the performances in the Town and Gown concert series. For this performance he included the U.D. Chorus under the direction of Don Large. The concert, using Freedom as its theme, included a medley of freedom songs and a musical adaptation of Frost's "The Gift Outright" which was performed when Robert Frost visited U of D a few years earlier.
So while the city of Detroit may have been focused on the Detroit Tigers, life on campus I guess you could say was business as usual. The 1968  Tigers were a welcomed relief from the previous summer of 1967, when Detroit endured a much publicized race riot with images of the National Guard on duty.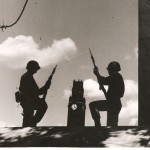 This year a winning team might help get people to overlook the publicity of the city going through bankruptcy. It had been 23 years since the last time the Tigers had won a pennant and it would be another 16 years before they would win another championship in 1984. We are way overdue for another World Series championship!
GO TIGERS!