100 Years Ago: Great Lakes Storm of November 1913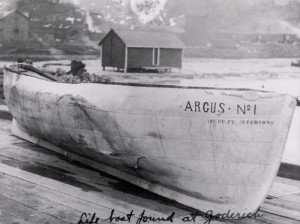 It was probably the worst maritime storm in the history of shipping that took place from November 7 through November 10, 1913 on the Great Lakes. More than 250 men lost their lives, twelve ships sank and some of them have never been recovered. You have to remember that during this period of time the technology for weather forecasting was very limited-no satellites or radar systems had been invented yet. How much attention was paid to the weather predictions seemed to depend on the Captain's experience and his own observation of weather conditions.
In any case, no one then could have imagined how huge the storm would grow, its intensity and how long it would last. Although the term "hurricane" was considered to be a tropical storm term, this storm at its height would certainly be labeled as a hurricane with winds up to 60-70 miles per hour (these were land measurements – out on the great lakes they were probably much higher) with waves 35 feet high and lasted for about 16 hours. The city of Port Huron saw snow squalls create four to five feet snow drifts! The greatest loss of life and ships took place on November 9th on Lake Huron: Argus-28 victims, James Carruthers-22 victims, Hydrus-25 victims, John A. McGean-28 victims, Charles S. Price-28 victims, Regina-20 victims, Issac M. Scott-28 victims, Wexford-20 victims.
In the Marine Historical Collection at the University of Detroit Mercy Library, pictures and data on many of the ships affected by the storm can be found. A sample of the pictures have been digitized for viewing on the library's Special Collections page of Fr. Edward J. Dowling, S.J. Marine Historical Collection.
Pat Higo, Archives and Special Collections Librarian