The case of the missing mascot: UD 1919 football team picture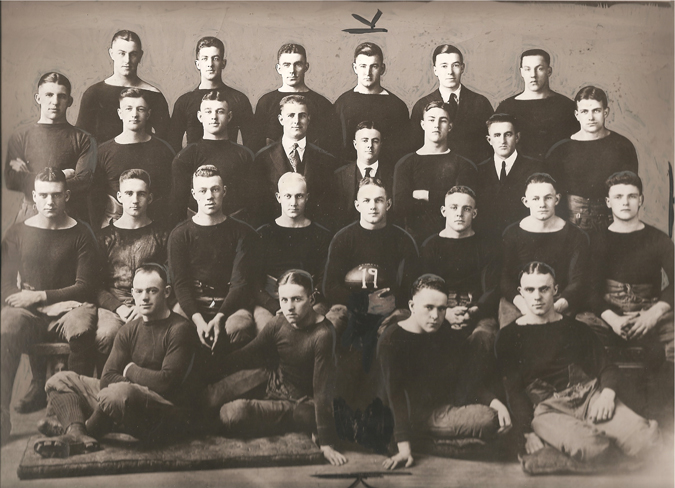 On occasion I find some item on ebay that I think would be nice to have in the university archives. There was a posting for a "Large 1931 Press Photo University of Detroit College Football Team". Did a little digging around because the uniforms did not look like the kind they wore in 1931. There was a listing on the back of the picture of the members of the team and I recognized one of the names "Walter (Tillie) Voss. A check through the UD history book had him listed with the 1917 football team. The library page has many of the old football programs on line, and by luck there was a 1921 football program that also had the 1919 football team picture. Thinking it would be nice to have a picture of the team that I would not have to get through the football programs, I went ahead an put my bid in to purchase it. (UD ended its football program in 1964.) I was the only bidder, and it was promptly shipped.
When it arrived, I thought something was not quite right about the picture. I could not put my finger on what it was that was wrong until I went back and looked at the photo that I had originally found in the football program. This is the original picture from the football program-can you spot the difference?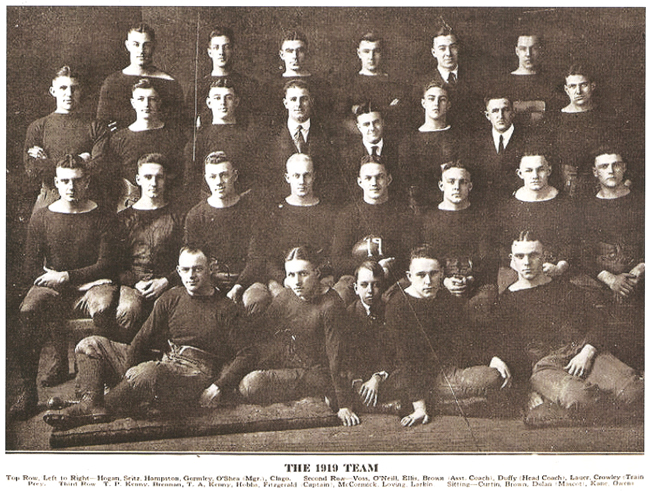 Aside from the fact that the background was lightened and there is a slight change in how people posed, somebody got blocked out. Sitting on the bottom row under the football '19, there is a little guy missing. Dolan, in the original picture, is listed as the "mascot".  For whatever reason, his appearance in the team photo didn't seem important enough to keep in the picture. In fact someone would have had to take some extra effort to blacken his image out and draw in the hand holding the football. Even in the listing of the "1931″ picture, his name is not listed. I doubt there is anyone around that could explain why the mascot was deleted from the picture. Did he do something really bad that got him blacked out? I guess we will never know.
Pat Higo, Archives and Special Collections Librarian