The things you find when you need to move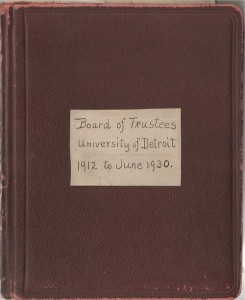 In preparing to move all my stuff on and around my desk (they are redoing the entire floor in the room I am located in), checking my files, I stopped to browse through some University of Detroit Board of Trustee minutes from 1912 to June 1930. Most of the stuff is pretty boring: filling positions of board members that have left, passing on the list of graduates, various financial dealings, and discussions of new programs. There was one session that I found to be interesting, and a bit of a mystery as to why things did not end the way it was described in the documentation-just keep reading and you will see what I mean.
On November 28, 1914, the board formally accepted a gift of property from Mrs. C. J. Reilly. She would be allowed to remain on the property during her life and if her sister, Marie L. Lansing, outlived her, she too would be allowed to remain in the home until her death.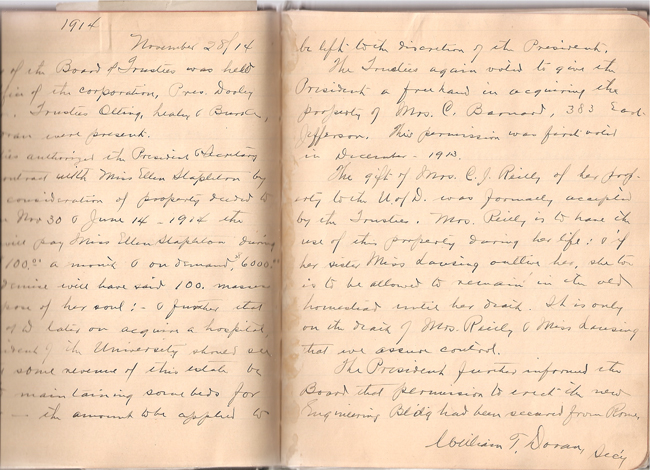 Inserted in this page is the more formal letter of the disposal of the property to the University of Detroit. There is no date on that page.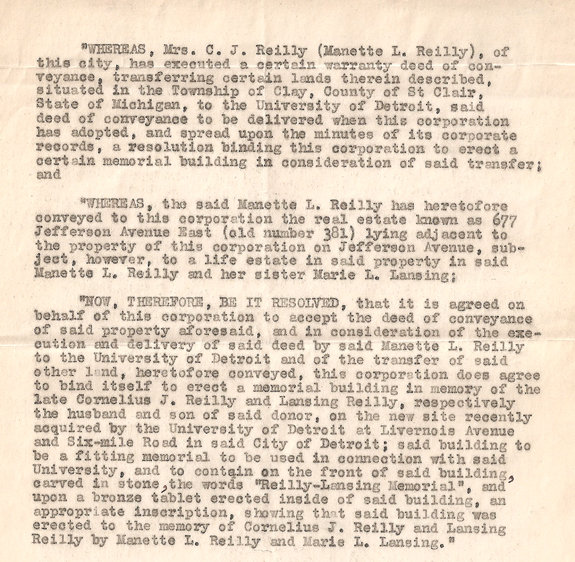 Lansing was the first name of the son and the last name of the sister who must not have been married. The land for the McNichols campus was not purchased until 1921. The funds for the building was received in 1922 as announced in the Varsity News, March 15, 1922. The building dedicated in honor of the two sisters was dedicated in 1926, but the building is named "Lansing-Reilly" not "Reilly-Lansing" as written in the document. Even Fr. Muller notes in his book on the history of UD that the the wording more properly is "Reilly-Lansing Memorial". There does not seem to be any explanation as to why the order of the names changed. Was it for aesthetics, alphabetical or political? I don't know if there is anyone around who would know the background of the naming of the the building.
Pat Higo, Archives ans Special Collections Librarain