Trophies and whatever happened to the "Ideal Co-ed"?
In looking for stories to write in this blog, I would often go to a file and just look for something with pictures. The file on trophies did not have a lot, but in trying to check into one of them found a bit of a mystery.
All the trophy pictures appear to be taken around the same time-mid 1930′s. The two tall ones don't have any names or identification inscribed on the nameplate, one can only guess that they have something to do with golf and track and field. Only because there is another golfing type trophy that has "Presidents Trophy, University of Detroit, Alumni Association" label and I think it says "John P. Scallen Award" that would lead me to think that the two unidentified trophies might also be connected to the Alumni Association. John P. Scallen was a prominent alumni and major booster of the UD athletic department.
And then in the file there is this trophy given to "Marjorie Burns, Ideal Co-ed, U of D -'36″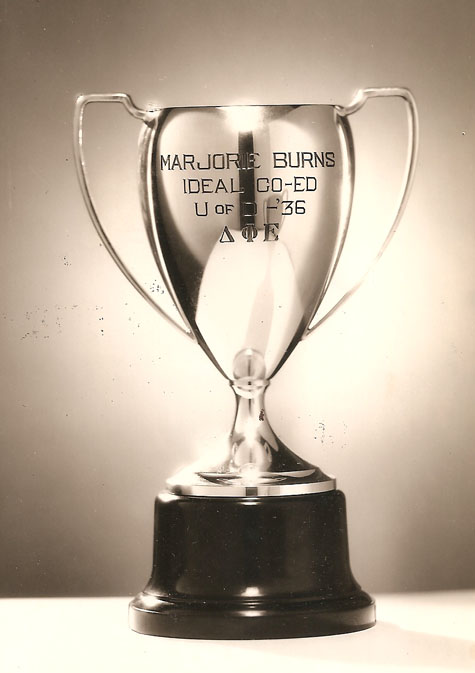 At least during her freshman and sophomore year, she was one very active student in various student organizations. The 1935 and 1936 Tower Yearbooks have quite a list of activities that she participated in as more than just a member- she held some important leadership roles and in a couple of cases the first co-ed to to take on those roles!
But at least as far as the Tower Yearbook goes, the only other listing for her is as a senior in the 1937 Tower Yearbook and then only her name, no picture. Did she double up on credit hours during her junior and senior year-which left no time for any student activity? Did she even graduate? Her name is not listed in the commencement program for 1937 or 1938. Did she graduate under a married name? So what happened to the "Ideal Co-ed"?