1965 Model United Nations at UD
In 1948, the United Nations General Assembly declared 24 October, the anniversary of the Charter of the United Nations, as which "shall be devoted to making known to the peoples of the world the aims and achievements of the United Nations and to gaining their support for" its work.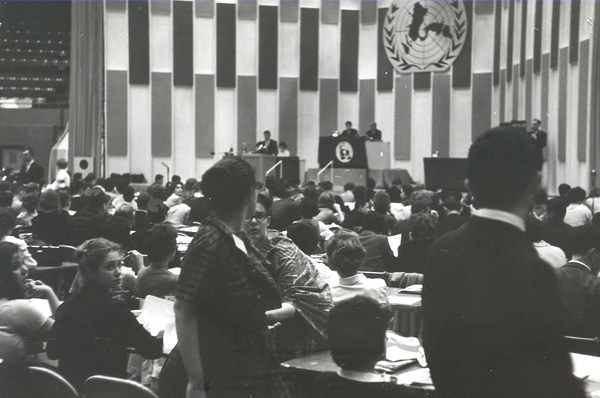 In the 1960′s, the University of Detroit Student Council sponsored an annual meeting of the Model United Nations. More than 600 high school students from Michigan and Canada would meet for three days on the McNichols campus to hold General Assembly meetings. Each school was assigned a country, with each delegation taking actual political position of the nation they represented. More than 100 university students were involved in the project aiding the high school students as secretaries, chairmen of the committees and members of the secretariat staff.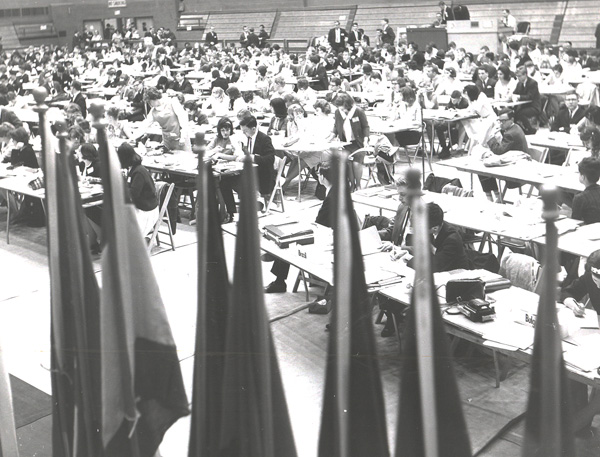 The Model UN was to be an educational experience in international relations. In the 1965 Model UN, the student delegates discussed the questions of  sovereignty over natural resources, the renunciation of the use of force in territorial disputes, and internal problems in Southern Rhodesia, Malaysia, and Viet Nam. Each delegation was composed of five delegates. The delegates were expected to research their assigned country's policy toward the specific issue and to submit resolutions and amendments, to speak, caucus, and vote on the documents.
Some of the students improvised costumes of the country they were representing.