Celebrating Independence
All Americans celebrate Independence Day (July 4th) as a federal holiday commemorating the Declaration of Independence signed on July 4, 1776. This event marked this country's freedom from Great Britain during the Revolutionary War (1775-1783).
But did you know that August 1 (Emancipation Day) was celebrated as a day of independence and liberation for thousands of enslaved and formerly enslaved people in this country and others for years after slavery was abolished in the West Indies on this day in 1833?  This one act (the British Slavery Abolition Act) freed 700,000 in West Indies, 20,000 in Mauritius, 40,000 in South Africa.  (See Abolition of Slavery timeline here).  And while it would be another 30 years before the Emancipation Proclamation officially ended slavery in this country, this major legal action in the British West Indies offered hope for further reasoned laws abolishing slavery in all other countries forever.  Quite a reason to celebrate.
And while Emancipation Day (August 1) is today overshadowed by Independence Day (July 4) in this country, August 1 is still celebrated in Caribbean countries such as Barbados, Jamaica, and Bermuda.
*** Side note of interest here:  Within the U.S., there are several states that celebrate their own Emancipation Day on dates associated with the end of slavery for their state.  So, for example, Texas celebrates Juneteenth on June 19th.  In Mississippi, the date is May 8 (the celebration there is called Eight o' May). ***
Below is a page from an Emancipation Day speech delivered in 1849 by little known black abolitionist Abner H. Francis.  This 17 page speech was published in a black newspaper called the North Star on August 17 of that year and can be found in the Black Abolitionist Archive among our digital collections.  In this speech, Francis spoke eloquently and passionately for the cause of freedom, and for a reasoned approach to ending slavery.
On page 6 of this speech, Francis says,
"When the shackles are falling from hundreds of thousands of our race, when the great principles of human liberty and equality are reanimating the nations of the earth, shall we remain satisfied, in the valley of poverty and ignorance, or shall we avail ourselves of every means within our reach that may render us worthy of those principles and the age in which we live?"
Sometimes when reading these speeches, I hear the voices of these great men and women pleading with those living in my own time.  They seem to say, "Don't forget us!  Don't forget what we have fought so hard to overcome.  Honor us by living the best life you can live. Learn from the past, and create a valued place for yourselves in the future."
Visit the Black Abolitionist Archive to learn more about this speech and others.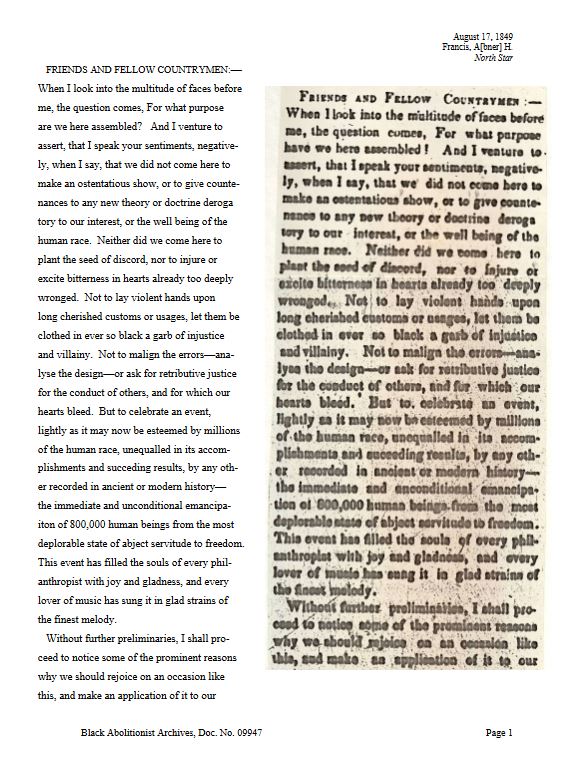 Contributed by Linda Papa