"Old Winter has Come Again, Alack"
"Old Winter has Come Again, Alack"
One of the best topics for conversation when nothing else is on the table for discussion is the weather.  Weather discussion offers you an endless supply of metaphor, an easy connection between strangers (who doesn't enjoy talking about the weather?), and a huge area for opinion of one sort or another. It also offers a great way to ease into heavier subjects, such as poverty and the misery of the poor.
During the 1800s, the press offered the African population (both enslaved and free) a source for discussion of common interests, a sounding board for frustrations, and a connection to others in similar circumstances.  From this desire to connect grew several prominent black newspapers (a column from one of those newspapers, the Provincial Freeman, is shown below). And while these newspapers were dedicated to a specific audience, the editors knew that this media offered access to those who might best be able to help with social issues. In an effort to "keep an eye" on the black population, readers were often among the white community (mostly among white government officials).  In this way, black newspapers claimed a potential for understanding and perhaps a way to promote the cause of freedom and gain a powerful ally for change.
The article shown here from the Black Abolitionist Archive, is a great example of the way in which newspaper writers of the day were able to weave social commentary into banal conversational exchange.  The writer reminds readers that even though the seasons change, poverty is always there, and is always the same.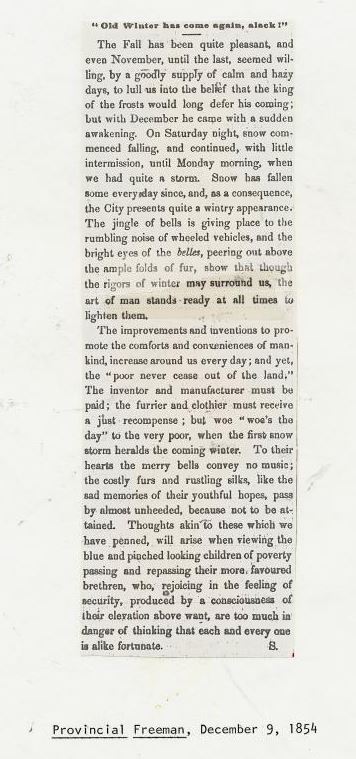 Contribution by Linda Papa, Digital Technician