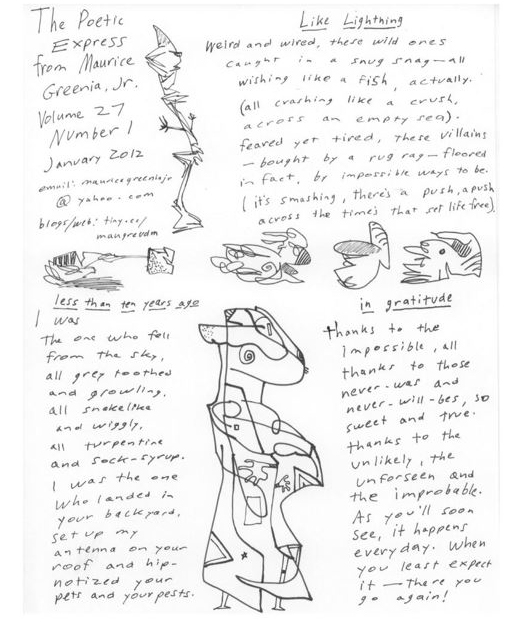 Creativity is an urge, I believe, and one we're all born with. This urge can get directed in different ways, from cooking to construction to creating a business. In some people, this urge is expressed through art. Regardless of the way it's expressed, however, what can't be denied is its need for expression. Often the form of expression is part of the creativity itself.
Maurice Greenia, Jr. responds to this creative urge in various ways: from writing, to drawing, to music, to performance. Introduce an idea and he'll give it a try. The urge encourages him to do something different, to change the world in a noticeable way, and to make a positive impact on society as a whole.
In the 1970s, Maurice decided to share his work in a unique way. Although he'd already been creating art for years prior to this, it was at this point that he started typing poetry, manifestos, drawings, and collections of old quotations (usually filling both sides of an 8" x 11" page). He'd make copies of these pages, and hand them out to people he'd run into around town. Sometimes, he'd mail these to various friends throughout the country to be distributed there. This was all done free of charge and in response to an urge to share his work.
In 1985, Maurice decided it was time to do a regular monthly publication. It was at this point that he came up with the name "Poetic Express" for this work. Since the publication would go out on a regular basis, he offered himself incentive with a deadline, thus forcing him to write poetry, draw, and create comic strips for each month. The Poetic Express is a way to connect on a very personal level to people he would never know or even meet. It's a raw communication that offers his readers a recognition of the creative urge within their own lives.
When asked about his inspiration for this publication, Maurice says, "It's always been about getting my work out to the people. I've had a lot of feedback over the years and the Express does have some sort of 'underground cult following.'"
The recent Poetic Express is one of Maurice's favorites since it includes tributes to family and friends, both living and deceased. I hope you'll spend some time with this section of the Maurice Greenia, Jr. collection. I think you'll find it inspiring.
Contribution from Linda Papa