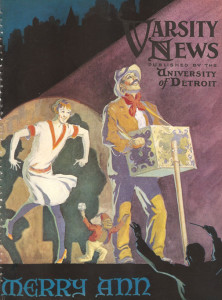 "Merry-Ann" was the first musical production by the UD Student Union. The book and lyrics were by Seniors James Pooler Silas and P. Ralph Miller. The story, told in two scenes and ten acts, is a love triangle with Merry-Ann the center of attention between an old childhood friend and the son of a wealthy philanthropist who decided to give the girl a higher education. Of course, complications arise (as well as a secondary romance about another couple), but who Merry-Ann ends up with is not disclosed in any of the articles that I have read. (My guess is that the childhood friend wins in the end.)
There were 371 applicants for a part in the stage production (more than 30 for the title role of Merry-Ann), and all the roles were played by male students. There were some women students attending the university, but the plan must have been for all the female roles to be played by male students.
All the actors and musicians involved with the play were students of the university. The only professionals involved were the director, John Harwood, and the choreographer Max Scheck, both of whom had extensive experience on Broadway productions.
The production was staged at the Shubert-Detroit Theatre at a cost of either $15,000 (two reports) or $25,000 (one report), but in any case, while there were huge crowds in attendance and it was critically acclaimed, it was not a financial success. A few more musicals were produced (including Aces Wild), but the financial strain was too much, so Fr. McNichols, then President of UD, decided the opera should be temporarily abandoned. I guess that's "Show Biz"