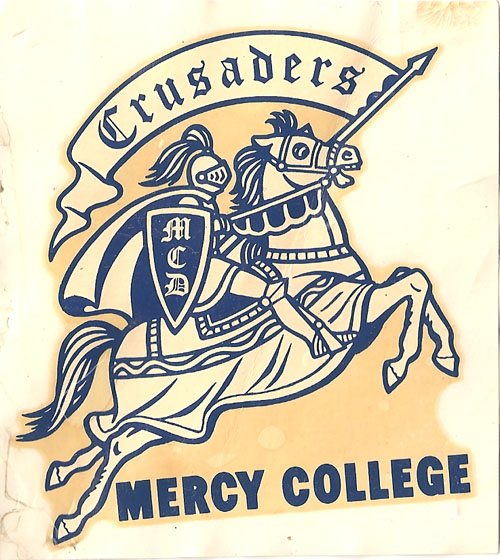 While the rest of the sporting world is focused on the March Madness of the NCAA Basketball Championship, I am going to write about a team few people probably even knew existed-Mercy College of Detroit women's basketball team. I would also guess even fewer people would know the team name: Crusaders. The colors for Mercy College were blue and white. The colors for University of Detroit were red and white, so when the two schools merged, UDMercy colors are now red, white and blue!
Their first coach was Sr. Agnes Mary Mansour from 1964-65 to 1969-70 and 1971-72. She would later become the president of the college from 1972-1982. I may not know much about sports, but I doubt there are any college presidents that can claim to have been a basketball coach at their own college! Under Sr. Agnes as coach (or SAM as she was often referred to) the team had a won-loss record of 78-37 and one tie. Maybe the Detroit Pistons should look for a nun to coach their team. Except for a couple of years, all the MCD women's basketball teams had winning seasons.
So what teams did they play against? In the 1973-74 season: University of Michigan-Dearborn, Siena Heights College, Oakland University, University of Windsor, Marygrove College, Madonna College, Macomb Community College, Mary Manse College (Yeah, I never heard of them either!), Concordia Lutheran College, Schoolcraft College, and Wayne State University (ended the season with 10 wins, 7 losses). The home games were played at either the Mercy College Gymnasium or at Our Lady of Mercy High School in Farmington, Michigan. At the athletic banquet at the end of the 73-74 season, various awards were handed out and according to the presentation script in the file, almost all the members of the women's basketball team were in the nursing program. The 1973-74 Women's Basketball Team: Mary Carmody, Joanne Ingalls, Ginny Kennedy, Kathy O'Connor, Evelyn Schmuckal, Sue Shagena, Chris Shekoski, Linda Timney, Ann Wickenheiser, and Mary Winter. To all those team members that are still around-Happy 40th Anniversary!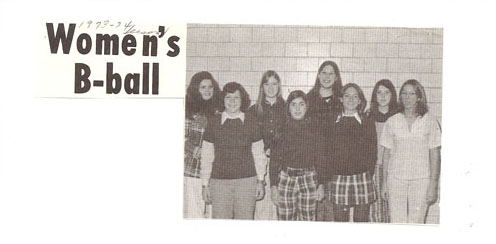 Pat Higo, Archives and Special Collections Librarian