Last week the University of Detroit Mercy sent off its latest set of graduates to their next phase of their lives. It wasn't that long ago when commencement ceremonies were held a bit later in the year and graduates had to follow more compulsory rules to graduate. Check out the notice in the Varsity News, May 8, 1939: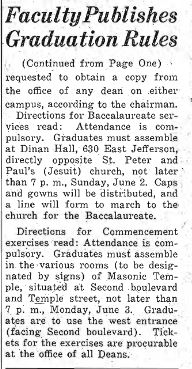 Up until 1966, commencement ceremonies were held a month later in June instead of early May like it is now. This changed when the university changed to a shorter trimester system.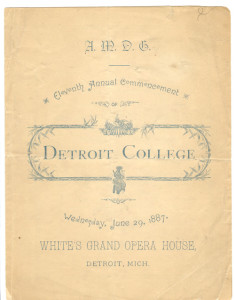 The Memorial Building (now named Calihan Hall) was not built until 1952, so university graduation ceremonies were held in various other venues. Sometimes with the later June dates, they were held in the open air of the stadium. Most of the time it was held in Masonic Temple. Other places included Orchestra Hall, Naval Armory, Detroit Institute of Arts and a few places I don't think are around any more like Elks Temple and Arcadia Auditorium. Even the time of day the ceremonies that were held would vary-sometime in the evening, sometime in the afternoon. Might have been the location that dictated when they were held. Browse through the commencement programs in our Special Collections page for places and dates as well as a listing of the graduates.
Not all the students of the university graduated in the same ceremony. I can't tell from the commencement programs when the Law and Dental Schools started their own separate ceremonies from the McNichols campus schools. During the early 60′s, there were separate ceremonies for the Dental Hygienist and Secretarial Science graduates. I guess since they were not four-year degree programs, they needed their own ceremonies.
Other traditions that are associated with the university's commencement ceremonies are the Baccalaureate and breakfast. The Baccalaureate originated in European universities and has been a part of the Jesuit tradition for centuries. The program usually included an invocational hymn by graduates, an address by a prominent Jesuit professor or administrator and benediction.
According to the Varsity News, May5, 1961, "The Mass and breakfast was begun five years ago by Delta Sigma Pi, international professional business fraternity, especially for C&F graduates. It attracted about 50 persons that year" The next year it opened up to all students and it just grew from there.
Some of the other senior activities have come and gone, like the Senior Prom and BobLo boat cruise, but the Baccalaureate, breakfast and commencement ceremony have stood the test of time and will probably be part of the university tradition forever.