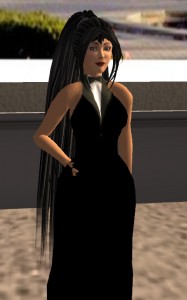 Welcome to the first posting of the University of Detroit Mercy Archives and Special Collections Blog!
There have been so many interesting and unusual things that I have come across in managing the archives and special collections here at the library that I decided there should be a way to share my experiences. I hope to post something every week about the events and people that have been a part of the history of the University of Detroit and Mercy College of Detroit. Many times the things I find are more by accident or chance, those are the types of material I find the most interesting.
That picture you see is my avatar on Second Life. UDM has a Second Life site where you can make a virtual visit of the UD Football Programs, Black Abolitionist Archive and Fr. Dowling Marine Historical Collection. I will go into more detail about these places in a later posting. Don't forget to check the library Pinterest site for more pictures from the archives.
So check back here and see what forgotten treasures and memories I come across here at the University of Detroit Mercy Library.
Posted in
Uncategorized
|
No Comments »