It was fear mostly that kept free black men from being accepted for enlistment in the early days of the Civil War (1861-1865).  Although they had fought in both the American Revolution and the War of 1812, the uprisings and revolts of later years encouraged government worry about arming black men. Yet while riots and desertion were plentiful when it came to drafting white men into the war, those black men who were committed to fighting for freedom were turned away … at first.
It didn't take long before the fierce fighting took its toll on the number of troops on both sides, however. It may have been the Confederacy that first realized it was outnumbered and overwhelmed by the success of the North. It was the South that came up with the idea of arming slaves to fight for their cause, thus ensuring freedom for those who would fight (any attempt to return a black Confederate soldier to slavery would be useless after this). In the North, Congress approved the formation of black regiment of troops on July 17, 1862, but it would be January 1, 1863, before President Lincoln officially instituted this as a clause in the Emancipation Proclamation.  (Blue, Gray, and Black: African Americans in the Civil War)
On August 1, 1863, a brief editorial was published in the Pacific Appeal newspaper.  Reading this offers us insight into how the black population was understanding and communicating the events of the war.  History records the high points, the top battles, the generals, the gains and losses. It's only when we zero in on the individual lives of those who lived through these horrible years that we gain insight into history as it was experienced, the "enthusiasm and patriotism" (as the author tells us) go together like "fighting and freedom." This was the first generation to really know the horrors of war and how costly the price of freedom could be. And the promises of "applause from a grateful country" would rouse the men of color to action, yet fall far short of expectation in the end. The steady march toward civil rights would begin in this generation, and this march continues today.
Quoting from an address delivered by the Executive Committee of Citizens in Pennsylvania, the writer of the article below adds:
"Take advantage of it; show yourselves to be men and patriots, and a grateful country, watching the flags of your regiments emerging triumphantly from the smoke of battle, cannot refuse the applause which is the due of valor contending for the right."
Want more? Visit the Black Abolitionist Archive in our Digital Collections.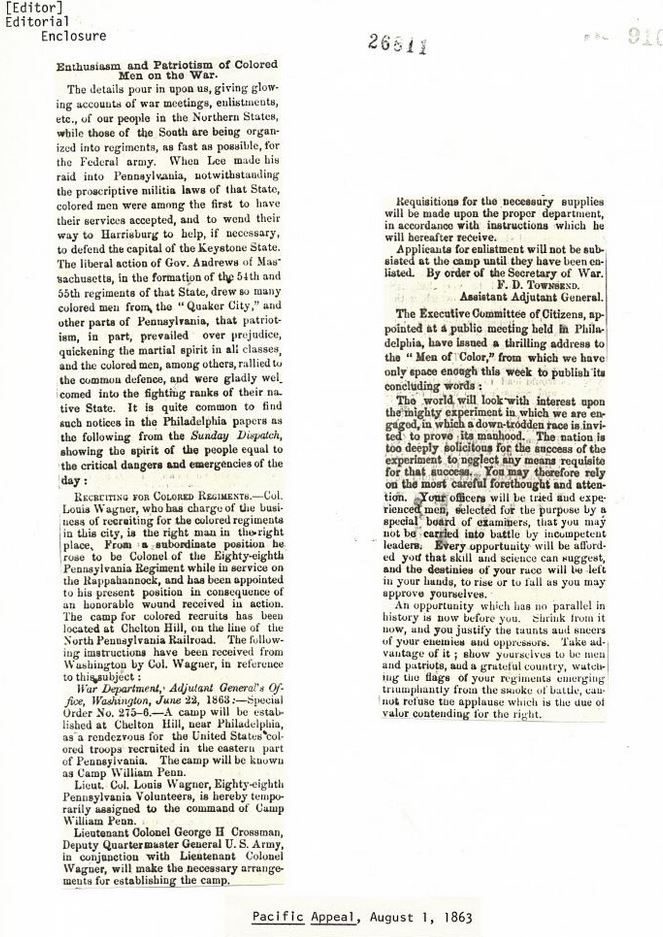 Contribution by Linda Papa, Digital Technician