Items of College History 1898
One of the best resources for information about the history of this university lies in the yellowing pages of the Tamarack.  Through the words of the students then, it's easy for readers to put themselves into that year and that space, and feel the slow pace of that time.  The academic atmosphere of those hallowed university halls comes into sharper focus as visitors to the Tamarack archive linger with each issue.
Within most of the Tamarack publications is a section called, Items of College History.  It might be surprising to come across a column like this in the first few issues since, in 2015, the year 1898 is already historical.  To the writers then, however, "history" began with the first month of the term, and the "items" were the events of note that occurred from then until the end of the semester. This offers readers a "snapshot" of this period in diary form.
In 1898, we can pick up events from the previous issue and learn that the semester began on September 3rd that year.  The author gives us statistical information regarding enrollments, and a nice breakdown of their discipline preferences.
Commencement was held on June 25th that year at the Whitney Opera House.  Like the year before, seven graduates received their degrees before a "large audience."
Shown here is page one of this section of the April, 1898, Tamarack.  The following two pages tell readers that Father M. P. Dowling, S. J. became a member of the faculty that year, beginning his teaching career as a professor of Humanities with the fall semester.  It goes on to describe the "Lake St. Claire region" before "…the advent of the electrician and the bicycle."
We also learn about the death of Father John Baptist Miege, founding father of Detroit College.  The Tamarack notes that word of Father Miege's death came during this year (1898) and that his death was a direct result of a "burn" he received.  Several sites throughout the Internet give conflicting information about this, and even Wikipedia says he died in 1883 of "paralysis."
Want to learn more about this?  Why not visit the Tamarack archive?  Whether you are searching for poetry, prose, or history, some of the best places to find interesting reading are among the digitized volumes of the University of Detroit's Tamarack.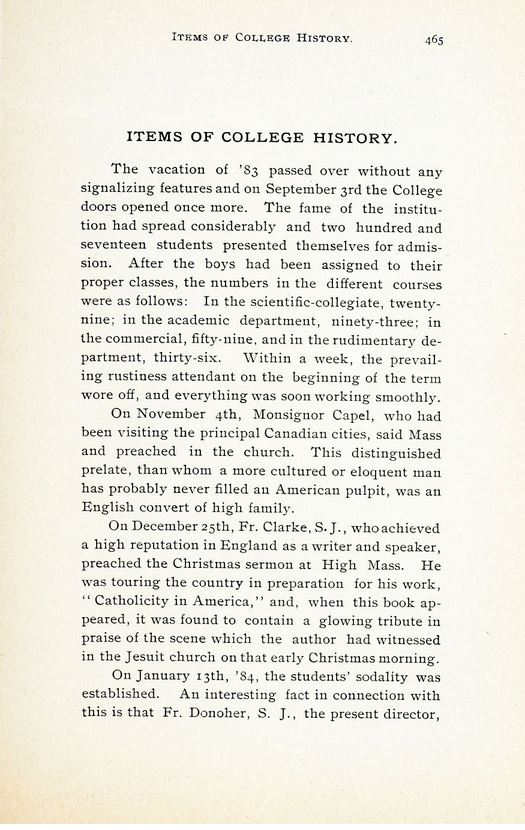 Contribution by Linda Papa, Digital Technician