Football at Mercy College of Detroit
Did you know Mercy College of Detroit had a football team? It was only around from 1967 to 1971, but there was a team! Ok- so it was a flag football team, no helmets or padding as part of the uniform-but still it was a football team!
The teams they played: Detroit College of Business, Midwestern Baptist, Detroit Institute of Technology, Shaw College (formerly Michigan Lutheran College), and Detroit Bible College. Their first game was with the University of Detroit Bulkers on September 22, 1966, which they lost 26 to 0. As far as I can tell the last scheduled game was November 13, 1971 against Midwestern Baptist College but I can find no news reports of the final score if it was played at all. The previous scheduled game with Detroit Institute of Technology was not played because D.I.T. did not show up for the game until 35 minutes after the scheduled kick-off time and Mercy was awarded a forfeit.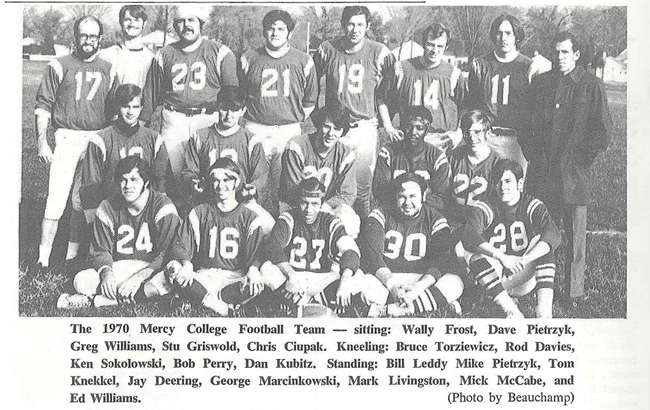 All the home games were played  at Peterson Field at the corner of Greenfield and Curtis. Not counting the first game with the U of D Bulkers, the Mercy College Crusaders had a record of 19 wins and 12 losses (pending whatever happened to the last scheduled game).
The Flag Football Program came to an end for a number of reasons as cited by the  1970-71 Athletic Annual Report: " injuries which occur (because proper padding and helmets are prohibited by the league), a lack of qualified referee assignments and a lack of commitment on the part of the other colleges who run their programs in a slip-shod manner."