A bit of hockey history at University of Detroit Mercy
Now that the Detroit Red Wings are back in action, here are a few notes about the University of Detroit Mercy hockey team. Not long after the move to the McNichols campus from the Jefferson campus, in addition to the football and basketball teams, they fielded a hockey team. Though hockey was a club sport, the Titans played regular college teams. In the 1970-71 season they tied with Dayton for first place in the Midwest Collegiate Hockey Association.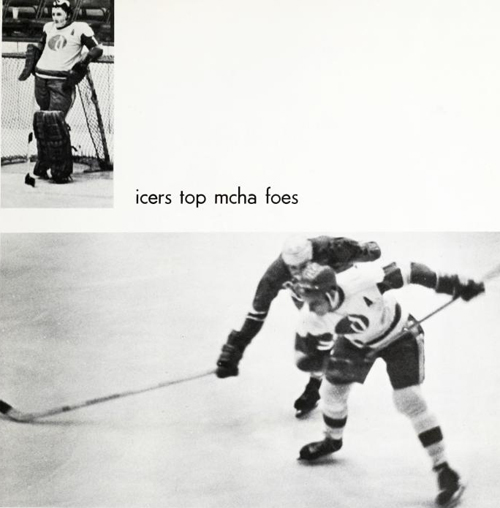 The following year, however, there was a major budget cut from $7,000 to$3,500. The team could no longer play an intercollegiate schedule and could not have the U-D on its uniform or use the name "Titan" If the university had no connection with the actual running of the team it would not be responsible if the"club" got into any altercations while playing with the league.
For a while the UD students formed a hockey team and were called the Rainbow Team and were members of the Southwest Hockey League.(Varsity News, January 25, 1974) I do not find any pictures of the team, but my guess is that they were called the Rainbow Team because they could not officially represent UD, so their uniforms were anything but uniform. I have not gone through enough Varsity News to find out how long the Rainbow Team survived.
The current version of the hockey club began in 2009. Since they are a "club" they still cannot use the Titan name or logo, but as you can see from this photo from the 2012 Varsity News-hockey is once again a part of the UDM sport teams. Hmmmmmmmmmm, maybe instead of a putting in the Olympic size pool at the Student Fitness Center, how about a hockey rink!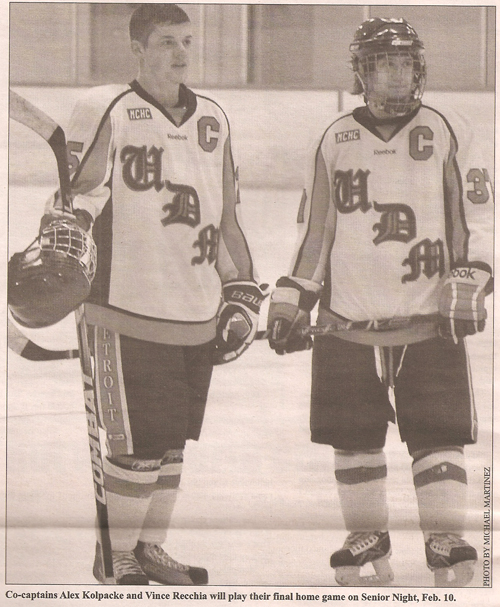 Pat Higo, Archives and Special Collections Librarian