Summer Sessions at University of Detroit-Nuns on Campus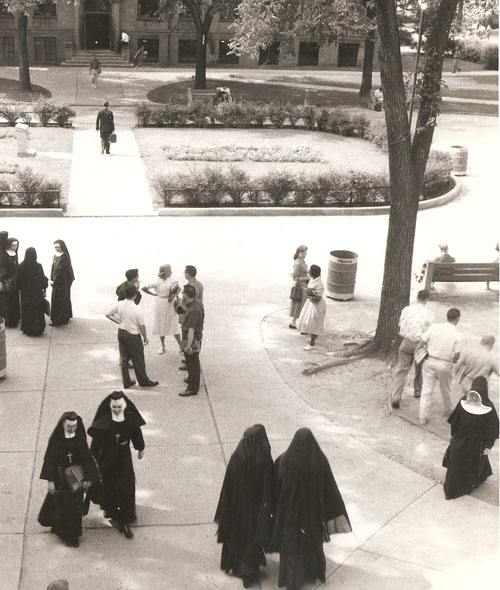 While many students may take the summer off from their studies, the campus is still buzzing with classes for the summer session. During the 1950′s there have been as many as 470 nuns representing twenty-five different orders attending daily classes, studying on campus benches and eating in the Student Union. They would come from all over the country as well as from Canada and even the Sisters of Notre Dame de Sion from Paris, France and Sisters of St. Dorthy from Rome, Italy.
The majority of the nuns were already teaching school but came to campus to take refresher courses or to further their education by taking classes in the Graduate College. Most were taking courses that would lead to master's in education, but there were various other fields such as biology, engineering and business administration.
In the summer of 1957 Holden Hall, traditionally male dormitory, thirty-five nuns from 11 different orders took over the building while attending summer classes. This was the first time women were admitted to the the dorm and they referred to themselves as the "Holden Hall Pioneers".  In the summer of 1960 the newly open Shiple Hall housed 107 nuns for the six week summer session. This newest, biggest and tallest all male dorm must have had a few bugs to work out or it wanted to give the visiting sisters something to think about. A newspaper article in the file reported how one of the nuns one night heard the elevator whir as she was returning to her room down a dark corridor. "It stopped, the door opened, but no one came out. The door closed again. The sister went on resolutely when suddenly the door opened again. Still no one there. The startled sister set out to recruit a little company." The article went on to say, "It still acts up".