1990 University of Detroit Dental School Yearbook
Except for 1976, the U of D Dental School had their yearly activities included in with the annual Tower yearbook editions. The Tower yearbooks ended in 1988, but the Dental School put out their own yearbooks for a few more years.  I don't think anyone does yearbooks any more which is too bad. Something like Facebook can only go so far in maintaining the kind of memories that comes with the printed copy of a yearbook. Its hard to tell from the picture, but there is a "1990″ embossed on the front cover. Just think, one massive CME (coronal mass ejection) could wipe out all the electronic data and the paper versions would be the only thing left for people to view past histories.
Just browsing through the pages, you can't help but wonder what some of these students are doing now. Did they all graduate and pass their exams to go on to have successful careers? A few of the faculty that I knew have since retired or passed away. There is a picture of Pam Zarkowski, who is currently the Provost and VP of Academic Affairs at UDM, shown as a department chair. She must have a "Dorian Gray" picture hidden in some closet because she does not look like she has changed much in the last twenty plus years since that picture was taken.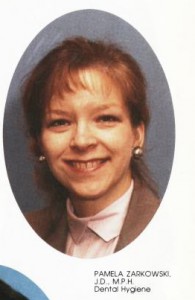 I think her picture would show her sleeping. Whenever I see her on campus she is just a blur, going from one meeting to another.
With all the high tech gadgets we have now to record memories-paper is still the best. You only need the sun to view it.
Pat Higo, Archives and Special Collections Librarian