Golden Memories for the Class of '64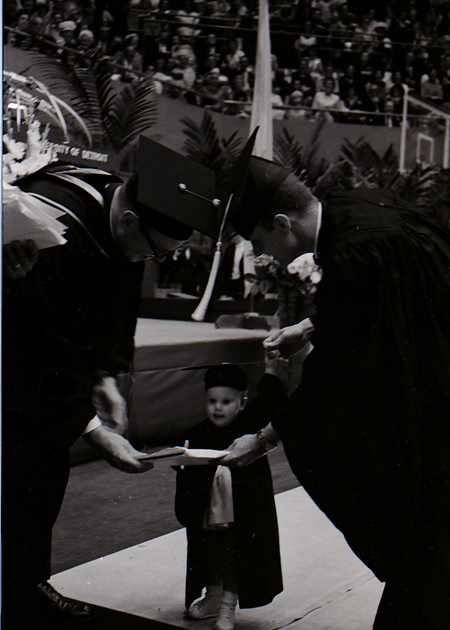 Is this UD's youngest graduate? Well, no not really. Not sure how much this little girl remembers that back in June of 1964, she was on hand to help her father, Peter Verkon, receive his Bachelor of Engineering diploma from the President of UD, Rev. Laurence V. Britt S.J.
For the graduates of 1964, it was the year President Lyndon B. Johnson declared a "War on Poverty", the first appearance of the Beatles on "Ed Sullivan Show", Stanley Kubrick's "Dr. Strangelove" premiered and Karol Wojtyla becomes archbishop of Krakow, Poland (who then becomes Saint John Paul II in 2014). The average yearly income was $5,880, first class postage stamp was .05 cents and a gallon of gas was .25 cents. It would also be the year you could put that gas into the first Ford Mustang with a base price of $2,368.
What kind of memories will the class of 2014 have on their fiftieth anniversary? Will the internet just be an old fashion way of communicating? Will we ever win the "War on Poverty?" So much has changed in the last fifty years-who knows what can happen in the next fifty!
CONGRATULATIONS CLASS OF 2014!