Golden Memories for the Class of 1963, University of Detroit and Mercy College of Detroit
The good old days in 1963–gas was 29 cents a gallon, a new car cost $3,200, undergraduate tuition at University of Detroit for full 16 hour credit load was $768.
In music the Beatles were just starting to take off with their first album "Please, please me" and some of the popular TV shows included: The Flintstones, Mr. Ed, The Avengers, and The Dick Van Dyke Show. At the 35th Academy Awards, the Oscar went to Lawrence of Arabia for Best Picture, Gregory Peck for Best Actor in To Kill a Mocking Bird and Anne Bancroft for Best Actress in The Miracle Worker.
On the local scene: Robert Frost gave one of his last lectures at Calihan Hall (back then called Memorial Building) in November of 1962. Johnny Mathis was the featured performer at the UD 1963 Spring Carnival and the Lourdes Shrine (now the Honors House) was dedicated.
In the spring of 1963, at the special request of the President (Sister Mary Lucille Middleton), the Board of Trustees acquiesced to a name change: from Mercy College to Mercy College of Detroit. Thus, the Detroit institution became differentiated from institutions of similar name in Pittsburgh, Pennsylvania; Providence, Rhode Island; Cedar Rapids, Iowa and Dobb's Ferry, New York (Risk & Hope: An early history of Mercy College of Detroit, 1941-1966)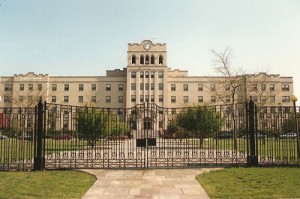 For the saying "You can't go home again" is literally true for Mercy College students. The campus was sold to Wayne County Community College and the Administration building was torn down.
To take a trip down memory lane, Alumni can go online and see the yearbooks, commencement programs and Varsity News (Mercy College student newspaper coming soon).
To all the UDMercy 2013 graduates: CONGRATULATIONS!